Ten Things to Know About the Future of Comics

1. Newspaper comics are dead. I wish it were otherwise, but it's impossible to get around the fact that no one under a certain age—and that age gets higher all the time—considers newspapers essential daily reading. The strip format will survive online, and maybe in other print media (four-panel comics are currently very popular in Japan, where they typically run in weekly magazines in chunks of six strips at a time), but the classic syndicated newspaper strip has been dying for a long time and I see little hope for resuscitation. Enjoy Richard Thompson's glorious Cul de Sac, because it's probably the last great comic strip.
4. The audience is infinitely fragmented. Contrary to popular belief, a lot of teenage comics fans don't read manga. Or they used to read manga, but they've long since moved on to something else. There's almost nothing that everybody reads. I've talked to kids for whom Scott Pilgrim is the modern equivalent of Watchmen—a seminal reshaping of the pop-cult universe they inhabit—and kids who have never heard of it, kids who only read shonen manga and kids who only read shojo manga, kids who are only interested in goth comics or zombie comics or Fables. Open the discussion to webcomics, and the audience fragments all the way down to the tip of the long tail; on the Internet, everyone is famous for fifteen people.
The Japanese define taste again
Now that umami, the indescribable flavor associated with yumminess in foods like soy sauce and cheese, has been declared the fifth taste, chefs are moving on to kokumi, a taste that is often described as richness or "mothfulness."
Kokumi is a non-tasting food or flavoring that, when combined with other foods, enhances "sweet, salty, and umami tastes" according to Japanese researchers at Ajinomoto, a Japanese seasonings and food product company, that published their findings in the November 2009 and January 2010 editions of the Journal of Biological Chemistry.
Russian bears treat graveyards as 'giant refrigerators'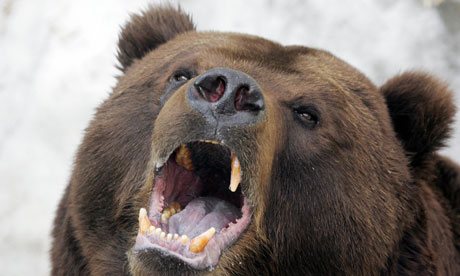 From a distance it resembled a rather large man in a fur coat, leaning tenderly over the grave of a loved one. But when the two women in the Russian village of Vezhnya Tchova came closer they realised there was a bear in the cemetery eating a body.
Russian bears have grown so desperate after a scorching summer they have started digging up and eating corpses in municipal cemetries, alarmed officials said today. Bears' traditional food – mushrooms, berries and the odd frog – has disappeared, they added.

The Vezhnya Tchova incident took place on Saturday in the northern republic of Komi, near the Arctic Circle. The shocked women cried in panic, frightening the bear back into the woods, before they discovered a ghoulish scene with the clothes of the bear's already-dead victim chucked over adjacent tombstones, the Russian newspaper Moskovsky Komsomelets reported.
One major cause of misunderstanding between men and women is the awkward fact that sexual intercourse, which we imagine will bring us closer together, is poorly designed to give pleasure to both parties. Jeremy Laurance goes back to physiological basics
If we were designing men and women to deliver maximum sexual satisfaction to one another, we would not start from here. The reason, as Shere Hite noted, has to do with the position of a tiny, but neglected organ – the clitoris.
Conventional sexual intercourse, in which the penis is inserted into the vagina, may be an efficient method of reproduction but is doomed to failure when it comes to maximising sexual pleasure – at least for the woman.
Shaping State Laws With Little Scrutiny

Here's how it works: ALEC is a membership organization. State legislators pay $50 a year to belong. Private corporations can join, too. The tobacco company Reynolds American Inc., Exxon Mobil Corp. and drug-maker Pfizer Inc. are among the members. They pay tens of thousands of dollars a year. Tax records show that corporations collectively pay as much as $6 million a year.
With that money, the 28 people in the ALEC offices throw three annual conferences. The companies get to sit around a table and write "model bills" with the state legislators, who then take them home to their states.

ALEC's Bowman says that is not unusual; more than 200 of the organization's model bills became actual laws over the past year. But he hedges when asked if that means the unofficial drafting process is an effective way to accelerate the legislative process.
"Don't knock masturbation," Woody Allen famously quipped. "It's sex with someone I love." But masturbation has of course been knocked around some, historically. According to Thomas W. Laqueur, a professor of history at the University of California at Berkeley (and the author of "Solitary Sex: A Cultural History of Masturbation") masturbation was not a topic of great interest to the powers that be until 1712, when a con man named John Marten anonymously published a book spectacularly entitled: Onania; or, The Heinous Sin of Self Pollution and all its Frightful Consequences, in both SEXES Considered, with Spiritual and Physical Advice to those who have already injured themselves by this abominable practice. And seasonable Admonition to the Youth of the nation of Both SEXES.
There were two obvious winners at the FIFA World Cup this summer. Spain took home the 13-pound, 18-carat-gold trophy for its achievement on the field. Nike (NKE) won the branding championship, thanks largely to a three-minute commercial called "Write the Future," in which its stable of soccer endorsers fantasize about the glory or disgrace that might result from their play in the tournament. Hundreds of millions of people saw "Write the Future" on television. Before it blanketed traditional media, however, Nike launched the video on Facebook, the Web's dominant social network.
The video started as an ad on the site. Then it was passed from friend to friend, often with comments and members recommending it. In the resulting discussions, the clip was played and commented on more than 9 million times by Facebook users—and helped Nike double its number of Facebook fans from 1.6 million to 3.1 million over a single weekend. Getting the ad onto Facebook cost a few million dollars, according to the companies. All that passing around was free. Davide Grasso, Nike's chief marketing officer, says Facebook "is the equivalent for us to what TV was for marketers back in the 1960s. It's an integral part of what we do now."