Is your dog single? Lonely? Having a hard time meeting other dogs?
Brazil's Petsmiling thinks its cornered the market with the DoggieLoveDoll, the world's first dog sex toy.
Planned $95M superyacht looks like a killer whale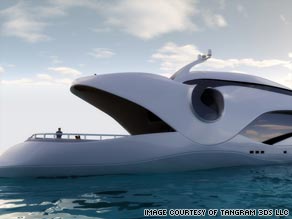 The planned seventy-six meter long "Oculus," which is designed for 12 guests, looks like a large sea creature, with one end looking uncannily like the jaw and eye socket of a shark or a killer whale.
A second design, the futuristic, 91-meter "Infinitas," is based on the figure-of-eight shape of an infinity loop.
Artist Repairs Walls In Italy With Lego Bricks
In an art stunt that Jesus is sure to love, artist and lego enthusiast Jan Vormann went around the quiet little town of Bocchignano, Italy filling its decrepit walls with lego pieces.
Artist Repairs Walls In Italy With Lego Bricks
The work was done as part of an Italian group project "20 Eventi." A group of artists developed projects in the Sabina region to create a open-air museum that spans four villages.
Things for sale that I will mail you
I am in Los Angeles (where I grew up) until May 12th. I will make temporary items for sale while I am here:
If you give me $1,626 I will go to the small Okinawan island called Taketomi and send you an envelope filled with star-sand (don't worry, I've been there before, I know where to go). I will send it from there.
If you give me $3,143 I will for as far away as possible. I live in New York. I will go to Perth, Australia the farthest distance from New York on Earth. I will mail you a photograph of me standing in New York. I will then mail you a photograph of me standing in Perth. I'm a little sad right now and I would kind of like to escape, so if you are thinking about getting one of these and not sure what you want, please take in consideration my emotions and pick this one.
Who would have guessed that when you remove Garfield from the Garfield comic strips, the result is an even better comic about schizophrenia, bipolor disorder, and the empty desperation of modern life? Friends, meet Jon Arbuckle. Let's laugh and learn with him on a journey deep into the tortured mind of an isolated young everyman as he fights a losing battle against lonliness in a quiet American suburb.
Inside Norway's "Doomsday" Seed Vault
Coloful houses lie near the mountains in Longyearbyen, a village on the island of Spitsbergen, part of Norway's Svalbard archipelago.
A mountainside near the town was chosen as the home for the Svalbard Global Seed Vault, a "doomsday" seed bank that will store backup copies of as many as three million different crop varieties in case of a worldwide catastrophe.
The high-tech vault, which will open for storage in February 2008, is going to "put an end to extinction [of] agricultural crops," said Cary Fowler, executive director of the Global Crop Diversity Trust in Rome, Italy, which is the leading force behind the project.