Russian bears treat graveyards as giant refrigerators
Posted on November 4, 2010
Russian bears treat graveyards as 'giant refrigerators'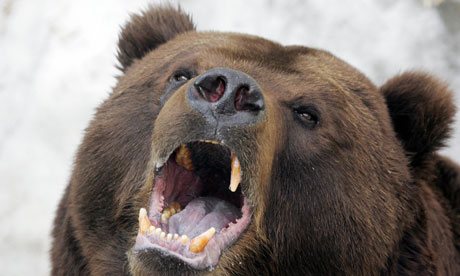 From a distance it resembled a rather large man in a fur coat, leaning tenderly over the grave of a loved one. But when the two women in the Russian village of Vezhnya Tchova came closer they realised there was a bear in the cemetery eating a body.
Russian bears have grown so desperate after a scorching summer they have started digging up and eating corpses in municipal cemetries, alarmed officials said today. Bears' traditional food – mushrooms, berries and the odd frog – has disappeared, they added.

The Vezhnya Tchova incident took place on Saturday in the northern republic of Komi, near the Arctic Circle. The shocked women cried in panic, frightening the bear back into the woods, before they discovered a ghoulish scene with the clothes of the bear's already-dead victim chucked over adjacent tombstones, the Russian newspaper Moskovsky Komsomelets reported.
Comments