U.S. vehicle fuel efficiency has increased only 3 mpg in 80 years
Gizmag is always on the lookout for alternative means of powering vehicles and saving precious fossil fuels. But, in truth, the vast majority of us still drive exclusively petrol-powered cars. And the even sadder truth, outlined in a new research from the University of Michigan, is that the average fuel efficiency of a US vehicle has improved only three miles per gallon since the days of the Ford Model T.
Michael Sivak and Omer Tsimhonia, of the University of Michigan Transportation Research Institute, calculated the distance driven and fuel consumed for the entire US fleet of vehicles – incorporating cars, motorcycles, trucks and buses – between 1923 and 2006. Using those numbers, they were then able to analyze fuel efficiency on US roads at any time, and make telling comparisons between eras.
According to Ford, the Model T – which began mass-production in 1913 – averaged a fairly healthy 25 miles to the gallon. Nonetheless, by 1923, the year the study begins, the average fuel efficiency of the entire US fleet was 14 mpg. That figure remained about the same for more than a decade.
How to Get More Bicyclists on the Road
Getting people out of cars and onto bicycles, a much more sustainable form of transportation, has long vexed environmentally conscious city planners. Although bike lanes painted on streets and automobile-free "greenways" have increased ridership over the past few years, the share of people relying on bikes for transportation is still less than 2 percent, based on various studies. An emerging body of research suggests that a superior strategy to increase pedal pushing could be had by asking the perennial question: What do women want?
In the U.S., men's cycling trips surpass women's by at least 2:1. This ratio stands in marked contrast to cycling in European countries, where urban biking is a way of life and draws about as many women as men—sometimes more. In the Netherlands, where 27 percent of all trips are made by bike, 55 percent of all riders are women. In Germany 12 percent of all trips are on bikes, 49 percent of which are made by women.
"If you want to know if an urban environment supports cycling, you can forget about all the detailed 'bikeability indexes'—just measure the proportion of cyclists who are female," says Jan Garrard, a senior lecturer at Deakin University in Melbourne, Australia, and author of several studies on biking and gender differences.

Safety Car by ph-stop
The cars for 2010 may be small in design, but they certainly are packed with fantastic features. From electronic stability control to stronger body structures and multiple airbag systems, the small cars of 2010 are focused on safety and chic design.
The following five small vehicles all received the title of "Top Safety Pick" from the Insurance Institute for Highway Safety (IIHS) for 2010. The "Top Safety Pick" status is given to cars that best protect passengers in a vehicle crash. Ratings for this test include: good, acceptable, marginal or poor based on such factors as high-speed front and side crash tests, rollover tests and tests on the seat and head restraints of the vehicles.
The following five vehicles all received the "Good" status for their 2010 models, thereby giving them the title of "Top Safety Pick" by the IIHS:
1. Honda Civic – The incredibly popular Honda Civic has kept its modern look for its 2010 model. The Honda Civic ranked high in both front, side and rear rollover crash tests because of an improved structural chest protection. Some of the great features of the Civic include a proven 1.8-liter, four-cylinder engine that gives drivers plenty of horsepower.
2. Kia Forte – Kia continues to make a name for itself in terms of safety with the Kia Forte, a four-door sedan that receives good ratings for all crash test areas. Impressively priced at just $13,695, the Forte includes features such as a 2.4-liter, four-cylinder engine and plenty of cool interior features.
3. Kia Soul – The inexpensive price of the Kia Soul (just $13,300) makes this car irresistible, but the good safety ratings in frontal, side and rollover crash tests makes this car a smart choice. Much like the Nissan Cube and the Scion xB in terms of design, the Kia Soul sports a 122-horsepower, 1.6-liter engine that gets an average of 29 miles per gallon.
4. Nissan Cube – Good performance in all crash test areas makes the Nissan Cube a smart choice for safety. The well-performing engine of the Cube boasts a 29-miles-per-gallon average and an automatic Xtronic CVT transmission for a nice ride. Priced at just $21,900, the Nissan Cube can be upgraded with a fully loaded Rockford Fosgate sound system.
5. Scion xB – The Scion xB is a cool and quirky ride, with is signature boxy shape. Priced from just $16,700, the Scion xB delivers good safety ratings in all test areas, while also boasting a huge improvement in its standard side airbag design. The xB also features a 2.4-liter engine that delivers a cool 25-mile-per-gallon rating.
The small car design of the above models, combined with the top safety ratings, make these cars a smart choice for individuals looking for safety and value. In addition to the reasonable price tags on these "Top Safety Pick" small cars, the savings in car insurance should be considerable when compared to larger vehicles, such as SUVs and crossovers. Give your auto insurance company a call to inquire about the savings on auto insurance you could enjoy by owning one of these smaller, safety-loaded sedans.
Commuters are leaving mass transit for their cars, and they have their reasons
The great debate for middle-class commuters — to drive or take transit — is now a no-brainer for many who are finding it cheaper and faster to take their cars.
The recession has changed the way commuters think. Gas prices are down and transit fares are up; freeway traffic is looser, while transit service is less frequent.
For three years, Veronique Selgado took BART from the East Bay to her job working for an airline at San Francisco International Airport. But she recently switched to driving because BART raised fares and upped its SFO round-trip surcharge from $3 to $8, boosting her daily trip cost to nearly $20.
Toyota Sees Robotic Nurses in Your Lonely Final Years
Before Toyota made cars, it made robots. It's making them again, and wants to use them in a most unusual place.
When it was founded in 1926, Toyoda Automatic Loom Works (as it was then known) manufactured automatic fabric looms that could detect problems and shut down automatically. It marketed these revolutionary devices as having "autonomation" — automation with human intelligence.
Now Toyota, looking ahead at the second half of this century, sees a mounting health care crisis and aging population coming to Japan. It sees a future where manufacturing robotic workers is the hot new industry and "autonomation" takes on a whole new meaning.

The Young and The Reckless by Leonid Mamchenkov
You've gone through all the precautionary measures to kid-proof your home: locking up chemicals and medications, installing an alarm on the swimming pool, and placing safety latches on all windows. Now is the time to head to your car for Kid-Proofing 101!
If you have never given a second thought to kid-proofing your car, consider this: a car has plenty of hazards not unlike a home, and you'd never dream of not kid-proofing your home, right? With that said, there are a number of things you should never do to risk your child's safety: never leave the keys in the ignition, never leave the trunk open and unattended, and never, ever leave a child unattended in the car.
These tips are certainly the most important things you must remember regarding your children and the car. However, there are three things that you should consider when searching for ways to protect your children from the dangers of a car:
1. Rid the car of any chemicals or choking hazards. From antifreeze to windshield wiper fluid and car fresheners, there are a number of things that could be in your car that you may not realize are dangerous – and even deadly – for children. If you have any type of chemical in your car, lock it in the trunk or remove it altogether. In addition, always check the backseat of the car for choking hazards before buckling your little one into their car seat. Never assume your child can't reach something – get rid of it and the risk of choking!
2. Make sure that your child is in the proper type of car seat and that the car seat is installed correctly. Never assume that you know how to install a car seat, as each make and model will have different guidelines to ensure your child's safety. Take the time to read the car seat instruction manual, and always pay close attention to the age, height and weight requirements that come with car seats. If you have any doubt about the installation of your child's car seat, contact your local police or fire station, as many times they will offer free child safety seat checkpoints.
3. Always remember that the safest place for your child is in the backseat of the car. Even if your vehicle has an option that disables the front air bag, the front seat is still not a safe place for your baby or child. Instead, make sure your little one is safety buckled into a properly installed car seat in the back seat; preferably in the middle seat.
4. Buckle down your purse and other bags. A mom's purse may easily weigh 10 pounds, and it can be a real flying danger to your baby if you are in an accident. Buckle your purse and other bags into the seat to ensure they won't fly around and hurt your baby.
Finally, before heading out of your garage, always make sure that your car insurance is up to date and comprehensive. A good comprehensive auto insurance policy will prove to be invaluable, particularly if you have small children. Take the time to review your auto insurance policy on an annual basis to ensure that you are receiving the best auto insurance protection for yourself and your family.
Detroit homes sell for $1 amid mortgage and car industry crisis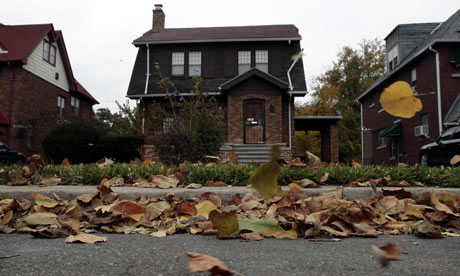 Some might say Jon Brumit overpaid when he stumped up $100 (£65) for a whole house. Drive through Detroit neighbourhoods once clogged with the cars that made the city the envy of America and there are homes to be had for a single dollar.
You find these houses among boarded-up, burnt-out and rotting buildings lining deserted streets, places where the population is shrinking so fast entire blocks are being demolished to make way for urban farms.
"I was living in Chicago and a friend told me that houses in Detroit could be had for $500," said Brumit, a financially strapped artist who thought he had little prospect of owning his own property. "I said if you hear of anything just a little cheaper let me know. Within a week he emails me a photo of a house for $100. I thought that's just crazy. Why not? It's a way to cut our expenses way down and kind of open up a lot of time for creative projects because we're not working to pay the rent."