The 25 Worst Tech Products of All Time
Posted on June 1, 2006
The 25 Worst Tech Products of All Time
2. RealNetworks RealPlayer (1999)



In order for your browser to display the following paragraph this site must download new software; please wait. Sorry, the requested codec was not found. Please upgrade your system.
A frustrating inability to play media files–due in part to constantly changing file formats–was only part of Real's problem. RealPlayer also had a disturbing way of making itself a little too much at home on your PC–installing itself as the default media player, taking liberties with your Windows Registry, popping up annoying "messages" that were really just advertisements, and so on.
And some of RealNetworks' habits were even more troubling. For example, shortly after RealJukeBox appeared in 1999, security researcher Richard M. Smith discovered that the software was assigning a unique ID to each user and phoning home with the titles of media files played on it–while failing to disclose any of this in its privacy policy. Turns out that RealPlayer G2, which had been out since the previous year, also broadcast unique IDs. After a tsunami of bad publicity and a handful of lawsuits, Real issued a patch to prevent the software from tracking users' listening habits. But less than a year later, Real was in hot water again for tracking the habits of its RealDownload download-management software customers.
15. Iomega Zip Drive (1998)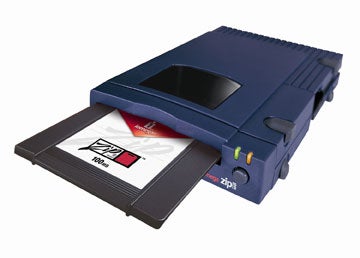 Finger, finger, trigger, trigger: Not every Zip Drive was suicidal, but those that were took your data with them when they self-destructed.
Click-click-click. That was the sound of data dying on thousands of Iomega Zip drives. Though Iomega sold tens of millions of Zip and Jaz drives that worked flawlessly, thousands of the drives died mysteriously, issuing a clicking noise as the drive head became misaligned and clipped the edge of the removable media, rendering any data on that disc permanently inaccessible.
Comments