GM exec: We need more new Hummers
Posted on September 29, 2006
GM exec: We need more new Hummers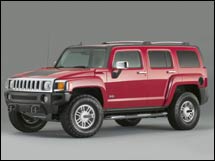 With sales up, brand needs broader portfolio of products, says GM VP at Paris Hummer dealer.
General Motors Corp.'s Hummer brand needs to double its product lineup by adding two or three more models, the executive charged with GM's product planning told reporters on Wednesday.
"Hummer needs some more products. It needs two or three more products to give it sufficient market coverage," General Motors Vice Chairman Bob Lutz told reporters at the opening of a Hummer dealership in Paris.
Comments